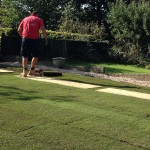 For a beautiful new lawn you need to consider two things – the quality of the turf and the quality of the installation.
We buy only buy premium turf that has been grown locally in the Vale of York. It's ordered and collected early on the morning that we lay it, for the maximum opportunity to thrive in your garden. In 20 years, we've never had to relay a lawn! The fresh turf is carefully laid over a correctly prepared bed of soil that has been rotavated, raked and levelled. This process can take at least a day and it ensure that your new lawn is level.
I just wanted to say a huge thanks to Paul and all the team at Paul Cox Landscapes for an amazing job transforming the gardens at Windthorpe Claxton. All the locals keep commenting how fantastic the gardens and patios now look. I would highly recommend and great people to deal with.
Artificial lawns
You may have seen a bad example of an artificial lawn? Maybe it was an unnatural shade of green, curling up at the edges and starting to look 'saggy'? If you opt for artificial grass, make sure you opt for a professional installer, laying a professional product. It's the only way to avoid a soggy bottom 😉
For artificial grass or lawns turf York, contact us.
Find out more about installing artificial grass