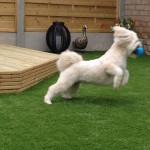 Artificial lawns have been something of a gardening revolution. Maintenance-free and ideal for households with children and pets, artificial grass really can be 'better than the real thing'.
Correct installation is key. It's very similar to buying a new carpet – invest in a thick pile, laid over a quality underlay (sub-base) and get it professionally fitted. The team at Paul Cox Landscaping have the experience to give you a bowling green lawn 12 months of the year!
We only use high quality artificial grass – the thick pile fibres are uv resistant and spring back after contact. The turf is laid on a mechanically compacted, level foundation of crushed limestone. The preparation of this sub-base is vitally important for a long-lasting, beautiful lawn.
A year ago we got a puppy and, as beautiful as he is, he totally trashed our garden! After living with it looking like a bomb site, we started looking for a landscaper. After many false starts and no shows, we found Paul Cox and his wonderful team of landscapers. I cannot stress enough how professional they all were; they worked really hard, were always here on time and cleaned up after every day. But most of all they have totally transformed our garden!! It is totally dog friendly and looks amazing. We absolutely love it and can't stop looking at it, lol! We would recommend Paul and his team without hesitation. Thanks Paul & Co.
Professional product, professional installation
You may have seen a bad example of an artificial lawn? Maybe it was an unnatural shade of green, curling up at the edges and starting to look 'saggy'? If you opt for artificial grass, make sure you opt for a professional installer, laying a professional product. It's the only way to avoid a soggy bottom 😉
For artificial grass York, contact us.
Find out more about installing artificial grass